América: de línea de frontera a líneas de figura, de poesía, de memoria
Abstract
The lines, the simplest way to represent borders, take part in the construction of power relations in the Western world, transformed into images and metaphors of poetic and narrative discourse. This paper aims to transcend this conception, starting from the traditional use -in western culture- as marks of the borders to underline its importance in the construction of visual and scriptural narratives, redrawn as symbols in the representations of non-western communities. Through a single case study - the allegory of America as a woman - the paper examines the transformation of this image from the sixteenth century cartography to the foundational national discourse of the nineteenth century. Las líneas, los trazados más sencillos que configuran representativamente las fronteras, participan sinuosas de la construcción de las relaciones de poder en el mundo occidental, transformándose en imágenes y metáforas del discurso poético y narrativo. Este ensayo pretende traspasar este trayecto, partiendo del uso tradicional en la cultura occidental de las líneas como marcas de frontera para su actuación en la construcción de narrativas visuales y escriturales, redibujadas como símbolos en las representaciones de las comunidades no-occidentales. Por medio de un único ejemplo – la alegoría de América como mujer –, perseguiré las transformaciones de esta imagen desde la cartografía del siglo XVI hasta el discurso de fundación nacional del siglo XIX.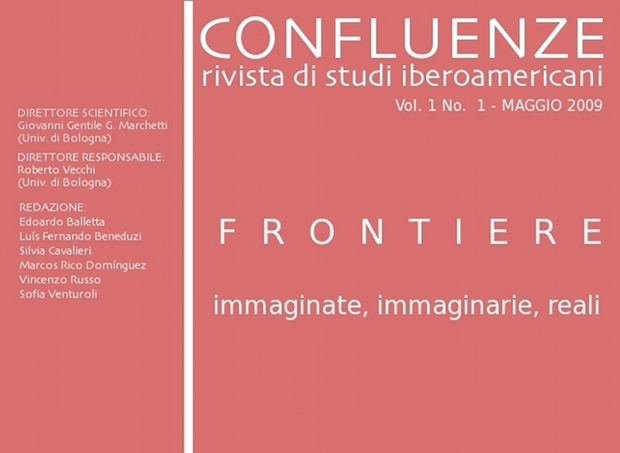 Downloads
Come citare
Ferreira, C. (2009). América: de línea de frontera a líneas de figura, de poesía, de memoria. Confluenze. Rivista Di Studi Iberoamericani, 1(1), 43-60. https://doi.org/10.6092/issn.2036-0967/1417
Licenza
Copyright (c) 2009 Cándida Ferreira
I diritti d'autore di tutti i testi nella rivista appartengono ai rispettivi autori senza restrizioni.
La rivista è rilasciata sotto una licenza Creative Commons Attribuzione 3.0 Unported License (licenza completa).
Vedere anche la nostra Open Access Policy.