Ciudades latinoamericanas: una utopía intelectual
Parole chiave:
Latin America, imaginary cities, utopia
Abstract
This paper analyzes Latin American utopian texts of the nineteenth and twentieth century, from Francisco de Miranda political-independentist proposal to Carlos Gamerro's novel Las islas, taking as axis of the travel Gisela Heffes's book Las ciudades imaginarias en la literatura latinoamericana. The central hypothesis is that fictional cities participate in the construction of major intellectual utopia, which is the very idea of Latin America.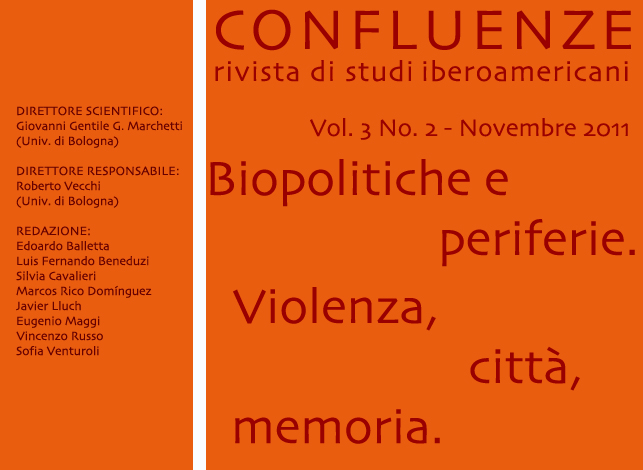 Downloads
Come citare
Croce, M. (2011). Ciudades latinoamericanas: una utopía intelectual. Confluenze. Rivista Di Studi Iberoamericani, 3(2), 175–180. https://doi.org/10.6092/issn.2036-0967/2397
Licenza
Copyright (c) 2011 Marcela Croce
I diritti d'autore di tutti i testi nella rivista appartengono ai rispettivi autori senza restrizioni.
La rivista è rilasciata sotto una licenza Creative Commons Attribuzione 3.0 Unported License (licenza completa).
Vedere anche la nostra Open Access Policy.