Productivización literaria de la identidad territorial por medios alegóricos
Abstract
The aim of this paper is to investigate the mechanisms of literary productization of territorial identity by allegorical means. This implicates a detailed analysis on the relationship between literature and market as well as the one between collective psychology and the ways it is exploited by perpetuating trauma with the final goal of generating a static product of an "other" identity by using an external canon as guidance. Keywords: Identity, territorial, productization, trauma, market. El objetivo del presente estudio es el de investigar los mecanismos de productivización literarios de la identidad territorial por medios alegóricos. Esto implica un análisis detallado sobre la relación entre la literatura y el mercado así como sobre la psicología colectiva y la forma en que esta es explotada por medio de la perpetuación del trauma con la finalidad de generar un producto estático en el tiempo de una identidad "otra" a partir de la guía de un cánon externo. Palabras clave: Identidad, territorial, productivización, trauma, mercado.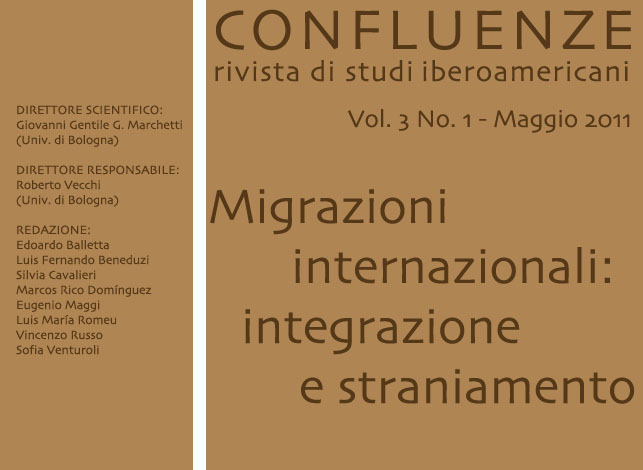 Downloads
Come citare
Saldías Rossel, G. (2011). Productivización literaria de la identidad territorial por medios alegóricos. Confluenze. Rivista Di Studi Iberoamericani, 3(1), 227-237. https://doi.org/10.6092/issn.2036-0967/2211
Licenza
Copyright (c) 2011 Gabriel Saldías Rossel
I diritti d'autore di tutti i testi nella rivista appartengono ai rispettivi autori senza restrizioni.
La rivista è rilasciata sotto una licenza Creative Commons Attribuzione 3.0 Unported License (licenza completa).
Vedere anche la nostra Open Access Policy.