De Gonzaga para Londres: etnicidade e preconceito na historia de Jean Charles de Menezes
Abstract
This paper aims to re-build the experience of Brazilians in London from the case of Jean Charles de Menezes. Who migrated to London, from Gonzaga, Minas Gerais, and died on the 22nd of July 2005 when he was 'mistaken' for a terrorist. We hope with this article to re-build the route of his life from his family members' verbal accounts as well as from accounts of the national and international press, aiming to discuss how the route of dramatic life and death can help us understand the routes of many emigrants, and also understand the prejudice contexts and hosting society discrimination. Keywords: International migration, ethnicity, life history, Brazilian emigrants, Brazilians in London. Este artigo busca reconstruir a experiência de brasileiros em Londres a partir do caso de Jean Charles de Menezes que partiu de Gonzaga Minas Gerais e emigrou para Londres e morreu em julho de 2005, "confundido" com um terrorista. A sua trajetória de vida foi reconstruída a partir dos relatos de seus familiares bem como a partir das notícias nos jornais nacionais e internacionais, procurando discutir como a sua vida e morte dramática pode nos ajudar a compreender as trajetórias dos emigrantes brasileiros e os contextos de preconceito e discriminação na sociedade de acolhimento. Palavras-chave: Migração Internacional, etnicidade, história de vida, emigrantes brasileiros, brasileiros em Londres.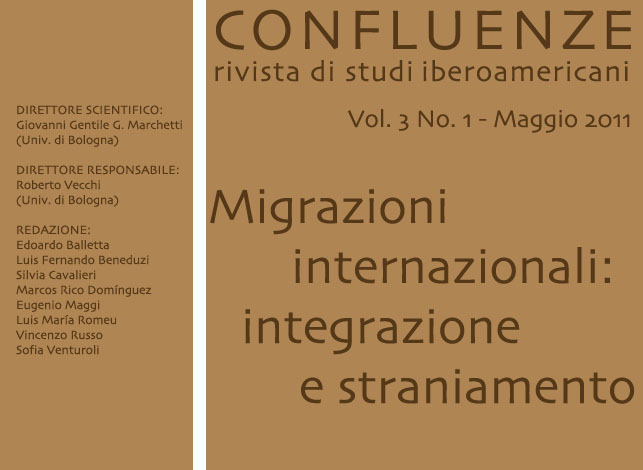 Downloads
Come citare
de Oliveira Assis, G. (2011). De Gonzaga para Londres: etnicidade e preconceito na historia de Jean Charles de Menezes. Confluenze. Rivista Di Studi Iberoamericani, 3(1), 174-187. https://doi.org/10.6092/issn.2036-0967/2208
Licenza
Copyright (c) 2011 Gláucia de Oliveira Assis
I diritti d'autore di tutti i testi nella rivista appartengono ai rispettivi autori senza restrizioni.
La rivista è rilasciata sotto una licenza Creative Commons Attribuzione 3.0 Unported License (licenza completa).
Vedere anche la nostra Open Access Policy.