Sobre algunos temas en Cucurto: inmigración e imaginación urbana
Abstract
The aim of this paper is to outline – in the work of Washington Cucurto, pseudonym of Santiago Vega – the literary representations of a contemporary Buenos Aires marked by the experience of immigration. Even if the production of a new language and a new geographic and literary space for the city places Cucurto in the tradition of modern literature, the way his work restate that experience implies a innovative approach to the immigration phenomenon. Keywords: Buenos Aires, immigration, literature, Washington Cucurto, Santiago Vega. El objetivo de este artículo es delinear los modos en que la escritura de Santiago Vega, a través de la voz de su alter ego Washington Cucurto, introduce en la literatura argentina la experiencia de una ciudad de Buenos Aires marcada por la inmigración de los países limítrofes y del interior del país. Si la construcción de una lengua y de un nuevo espacio geográfico y literario para la ciudad colocan a Cucurto en la tradición moderna de la literatura, la forma cucurtiana de reelaborar dicha experiencia se presenta como una ruptura con los tratamientos habituales del fenómeno inmigratorio. Palabras clave:: Buenos Aires, immigration, literature, Washington Cucurto, Santiago Vega.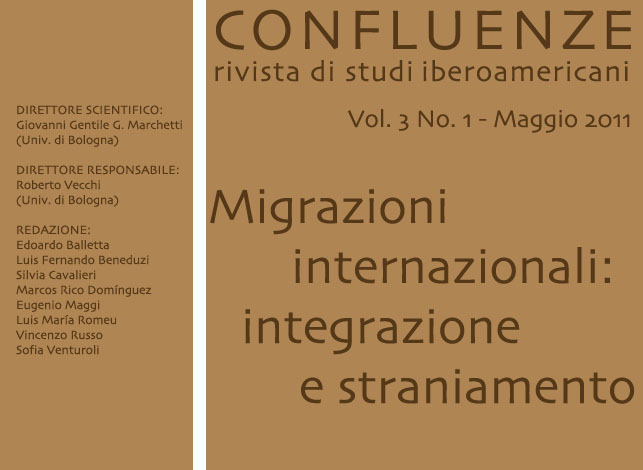 Downloads
Come citare
Deymonnaz, S. (2011). Sobre algunos temas en Cucurto: inmigración e imaginación urbana. Confluenze. Rivista Di Studi Iberoamericani, 3(1), 139-152. https://doi.org/10.6092/issn.2036-0967/2205
Licenza
Copyright (c) 2011 Santiago Deymonnaz
I diritti d'autore di tutti i testi nella rivista appartengono ai rispettivi autori senza restrizioni.
La rivista è rilasciata sotto una licenza Creative Commons Attribuzione 3.0 Unported License (licenza completa).
Vedere anche la nostra Open Access Policy.