Vida familiar, vínculos parentales y migración transnacional colombiana: cambios y permanencias
Abstract
Fathers and mothers migration influences the lives of their relatives. They create strategies to sustain the affective ties over the distance. Remittances to guarantee the economic support and the delegated and shared authority within the extended family, lead to the redefinition of relationships and responsibilities. Families change, transnational implies transformation of parental relationships which goes back and forth toward opportunities and hopes for a better life. This situation generates conflicts and tensions and, at the same time, builds different strategies to survive here and there. Keywords: families, conflicts, migration, parental relationships, authority. La migración de padres y madres, impacta la vida de las familias y de quienes se quedan en el país, por ello se generan estrategias para sostener desde la distancia la continuidad de los vínculos afectivos, el sostenimiento económico a través de las remesas, el ejercicio de la autoridad compartida o delegada a la red extensa, conllevando a la redefinición de las relaciones y funciones que se asumen antes del evento migratorio. Las familias afrontan cambios desde el vivir transnacional en las relaciones parentales, que fluctúan y se movilizan entre las oportunidades, y las esperanzas de una vida mejor, generando tensiones y conflictos y al mismo tiempo construyendo diversas estrategias de supervivencia aquí y allá. Palabras clave: familias, conflictos, migraciones, relaciones parentales, autoridad.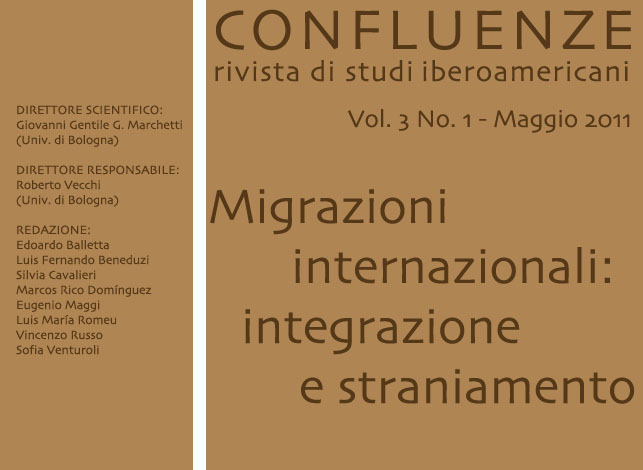 Downloads
Come citare
Morad Haydar, M. del P., Bonilla Vélez, G., & Rodríguez López, M. (2011). Vida familiar, vínculos parentales y migración transnacional colombiana: cambios y permanencias. Confluenze. Rivista Di Studi Iberoamericani, 3(1), 62-82. https://doi.org/10.6092/issn.2036-0967/2196
Licenza
Copyright (c) 2011 Maria del Pilar Morad Haydar, Gloria Bonilla Vélez, Mercedes Rodríguez López
I diritti d'autore di tutti i testi nella rivista appartengono ai rispettivi autori senza restrizioni.
La rivista è rilasciata sotto una licenza Creative Commons Attribuzione 3.0 Unported License (licenza completa).
Vedere anche la nostra Open Access Policy.