Este livro/foi escrito/ por mim Adília Lopes: uma vida deforma a poesia
Abstract
The works of portuguese poet Adília Lopes, in her bio-graphy, appears as a demonstration of one life in the deleuzean meaning that through language distorts the discursive structures of power in our contemporaneity. In her, the issue of biopolitics, brought by Foucault, arises as thematic of her texts, but is also in the poem´s textual tension itself. Life is brought to poetry to the point of deformity. It is the intensity of a life itself that contaminates the poem and places poetry as institution into question. Keywords: Adília Lopes, poetry, bio-graphy, counterconduct. A obra da poeta portuguesa Adília Lopes, em sua bio-grafia, surge como manifestação de uma vida no sentido deleuzeano que através da linguagem distorce as estruturas discursivas do poder na nossa contemporaneidade. Na autora, a questão da biopolítica trazida por Foucault surge como temática de seus textos, mas também é incorporada na própria tensão textual dos poemas. A vida é trazida para a poesia ao ponto de deformá-la. É a própria intensidade de uma vida que contamina o poema e que coloca a própria poesia, enquanto instituição, em questão. Palavras-chave: Adília Lopes, poesia, bio-grafia, contraconduta.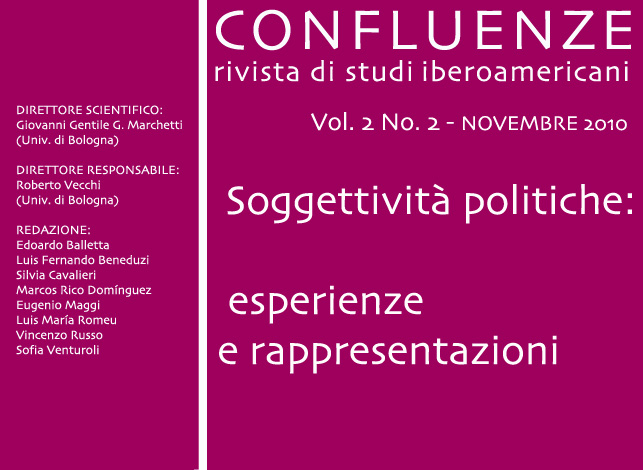 Downloads
Come citare
Evangelista, L. (2010). Este livro/foi escrito/ por mim Adília Lopes: uma vida deforma a poesia. Confluenze. Rivista Di Studi Iberoamericani, 2(2), 272-281. https://doi.org/10.6092/issn.2036-0967/2010
Licenza
Copyright (c) 2010 Lúcia Evangelista
I diritti d'autore di tutti i testi nella rivista appartengono ai rispettivi autori senza restrizioni.
La rivista è rilasciata sotto una licenza Creative Commons Attribuzione 3.0 Unported License (licenza completa).
Vedere anche la nostra Open Access Policy.