Las izquierdas en América Latina: cómo caracterizar el caso argentino
Abstract
The aim of this paper is to provide an overview of the differences between the many "left" in Latin America and interpret the Argentine case, discussing the usefulness of the concept to describe this political phenomenon. We'll see how far the Kirchner government meets the objectives of the new left and if there is consistency between public policies and their results. Our argument is that the progressive rhetoric of these governments is not accompanied by appropriate public policies or by institutional reforms leading to the establishment of a more democratic and more egalitarian society. Keywords: Left, democracy, populism, style of government, institutions. El objetivo de este articulo es el de trazar un panorama de las diferencias entre las numerosas «izquierdas» latinoamericanas y de interpretar el caso argentino, discutiendo la utilidad del concepto para caracterizar este fenómeno político. Veremos en qué medida el gobierno de los Kirchner responde a los objetivos de las nuevas izquierdas y si hay adecuación entre las políticas públicas destinadas a alcanzarlos y sus resultados. Nuestro argumento es que la retórica progresista de sus gobiernos no se acompaña ni de las políticas públicas adecuadas ni de las reformas institucionales conducentes a la instauración de una sociedad más democrática y más igualitaria. Palabras claves: Izquierda, democracia, populismo, estilo de gobierno, instituciones.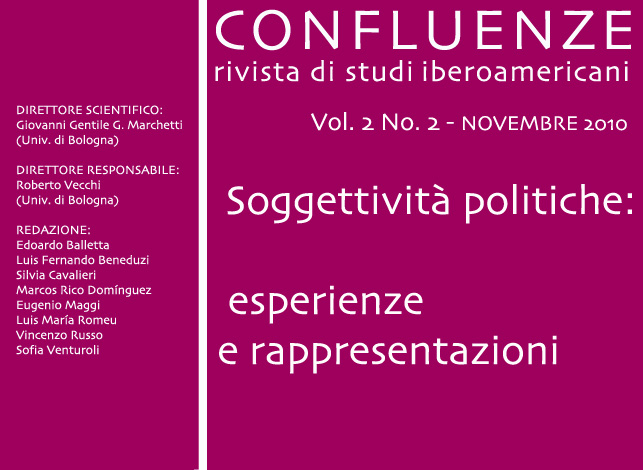 Downloads
Come citare
Ducatenzeiler, G., & Itzcovitz, V. (2010). Las izquierdas en América Latina: cómo caracterizar el caso argentino. Confluenze. Rivista Di Studi Iberoamericani, 2(2), 25-41. https://doi.org/10.6092/issn.2036-0967/1997
Licenza
Copyright (c) 2010 Graciela Ducatenzeiler, Victoria Itzcovitz
I diritti d'autore di tutti i testi nella rivista appartengono ai rispettivi autori senza restrizioni.
La rivista è rilasciata sotto una licenza Creative Commons Attribuzione 3.0 Unported License (licenza completa).
Vedere anche la nostra Open Access Policy.