Camp neobarroco: homenaje, artificio y violencia
Abstract
The aim of this paper is to examine some distinctive characteristics of post-vanguard, as shown in the works of Copi and Perlongher, as it is my intention to demonstrate that in the texts of these authors, the constructive principle that organizes the writing is related to a neo-baroque aesthetic and a camp view, as this carnival-like perspective allows them to work with the literary tradition, the different genres and the culture of masses from a parodic distance, that is violence and homage at the same time. This is why the world is represented as chaos, illusion, pure change, a carnival party where costume and transvestism proliferate. Keywords: post-vanguards, violence, homage, literature, culture of masses. El objetivo de este trabajo es analizar algunos rasgos distintivos de las posvanguardias, tal como se manifiestan en la obra de Copi y Perlongher ya que pretedo demostrar que en los textos de estos autores, el principio constructivo que organiza la escritura tiene que ver con una estética neobarroca o neobarrososa, y con una mirada camp, ya que esta perspectiva carnavalesca les permite trabajar con la tradición literaria, los géneros y la cultura de masas desde una distancia paródica que es violencia y homenaje al mismo tiempo. Por esto, el mundo es representado como caos, ilusión, puro devenir, fiesta carnavalesca donde prolifera el disfraz y los travestimientos. Palabras clave: posvanguardias, violencia, homenaje, literatura, cultura de masas.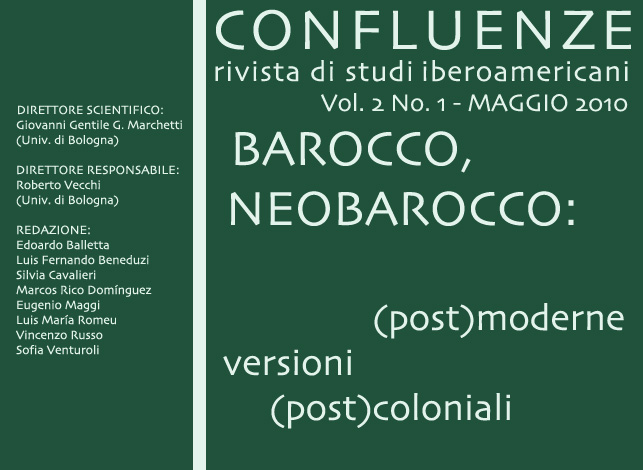 Downloads
Come citare
Montes, A. (2010). Camp neobarroco: homenaje, artificio y violencia. Confluenze. Rivista Di Studi Iberoamericani, 2(1), 99–111. https://doi.org/10.6092/issn.2036-0967/1860
Licenza
Copyright (c) 2010 Alicia Montes
I diritti d'autore di tutti i testi nella rivista appartengono ai rispettivi autori senza restrizioni.
La rivista è rilasciata sotto una licenza Creative Commons Attribuzione 3.0 Unported License (licenza completa).
Vedere anche la nostra Open Access Policy.