Un barroco a lo argentino (mientras Bianco lee a Piñera)
Abstract
The work investigates the way in which the narrative of the Cuban writer Virgil Piñera is "translated" for the Argentine readers, principally through José Bianco's writing and in relation with the ficcional paradigm that Borges together with others was postulating as the real model for the national narrative. From the concept of "baroque writer ", Bianco presents, explains and prefaces Piñera's stories in a paradoxical Latin-American reading scene, since it brings over to Borges from a category in appearances radically opposite to his aesthetics. Key words: baroque-ficcional writer, Borges, Piñera, Bianco. El trabajo indaga el modo en que la narrativa del escritor cubano Virgilio Piñera es "traducida" a los lectores argentinos, principalmente por vía de la escritura de José Bianco y en relación con el paradigma ficcional que Borges junto a otros venía postulando como el verdadero modelo para la narrativa nacional. A partir del concepto de "escritor barroco", Bianco presenta, explica y prologa los cuentos de Piñera en una paradójica escena de lectura latinoamericana, ya que lo acerca a Borges desde una categoría en apariencias radicalmente opuesta a su estética. Palabras claves: escritor barroco-ficcional, Borges, Piñera, Bianco.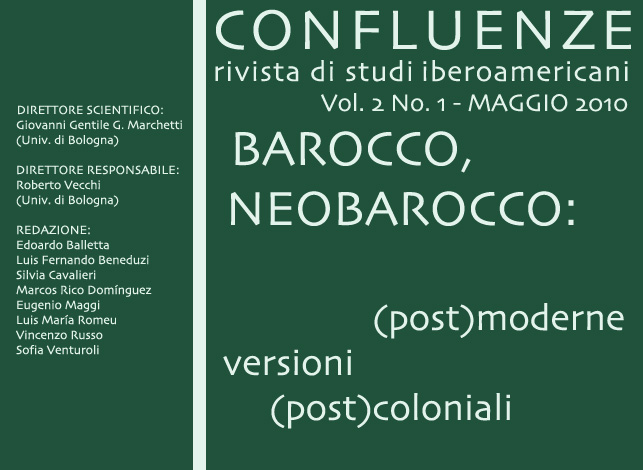 Downloads
Come citare
Calomarde, N. (2010). Un barroco a lo argentino (mientras Bianco lee a Piñera). Confluenze. Rivista Di Studi Iberoamericani, 2(1), 82-98. https://doi.org/10.6092/issn.2036-0967/1859
Licenza
Copyright (c) 2010 Nancy Calomarde
I diritti d'autore di tutti i testi nella rivista appartengono ai rispettivi autori senza restrizioni.
La rivista è rilasciata sotto una licenza Creative Commons Attribuzione 3.0 Unported License (licenza completa).
Vedere anche la nostra Open Access Policy.