Representações, língua e voz no percurso identitário da canção no Brasil
Abstract
The cultural process around the song is an extremely important fact for the understanding of the subject of national Brazilian identity. This paper's goal is to point out the discursive representations, and the uses of the language and of the voice, at some key moments in the trajectory of the song to characterize the space of music in the Brazilian culture as a dynamic of multiple and successive appropriations. O processo cultural em torno da canção é um dado extremamente importante para a compreensão das questões relativas à identidade nacional brasileira. O objetivo deste trabalho é examinar as representações discursivas e os usos da língua e da voz em alguns momentos-chave da trajetória da canção para caracterizar o espaço da música na cultura brasileira como um jogo de múltiplas e sucessivas apropriações.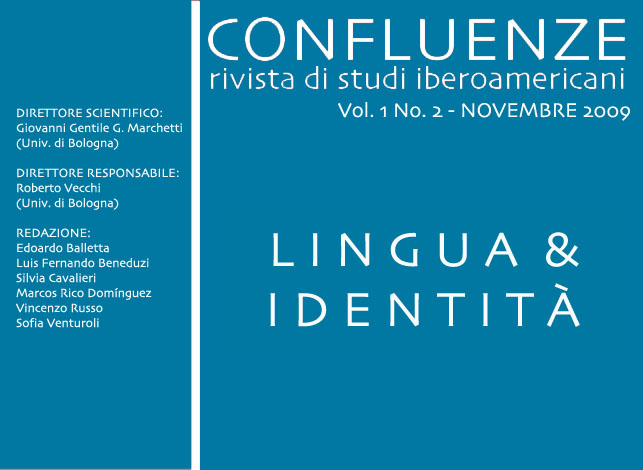 Downloads
Come citare
Barbeitas, F. (2009). Representações, língua e voz no percurso identitário da canção no Brasil. Confluenze. Rivista Di Studi Iberoamericani, 1(2), 144-159. https://doi.org/10.6092/issn.2036-0967/1655
Licenza
Copyright (c) 2009 Flavio Barbeitas
I diritti d'autore di tutti i testi nella rivista appartengono ai rispettivi autori senza restrizioni.
La rivista è rilasciata sotto una licenza Creative Commons Attribuzione 3.0 Unported License (licenza completa).
Vedere anche la nostra Open Access Policy.