Cantar la identidad: el emigrante/dekasegi en la música de los jóvenes latinos en Japón
Abstract
At the end of the nineties, as a consequence of the international popularity of reggaeton, in Japan too some young Latinos formed urban music bands. In this paper I will analyze the music practices of these youngsters in relation with japoñol, a mix of Japanese and Spanish languages, which is also the symbol of Latino migrants in Japan. My objective is to observe the construction and the redefinition of the dekasegi / migrant identity through music in japoñol, within the socio-historical framework of Latino migration to Japan A finales de los noventa y a raíz de la difusión internacional del reggaeton, en Japón nacen algunos grupos de música urbana compuestos por jóvenes latinos. En este ensayo analizaré las prácticas musicales de estos jóvenes en relación con el japoñol, una mezcla de japonés y español que es además el idioma-símbolo de los inmigrantes latinos en este país. Mi objetivo es, dentro del marco histórico-social determinado por la inmigración latinoamericana, observar la construcción y la redefinición de la identidad dekasegi / inmigrante a través de la música cantada en japoñol.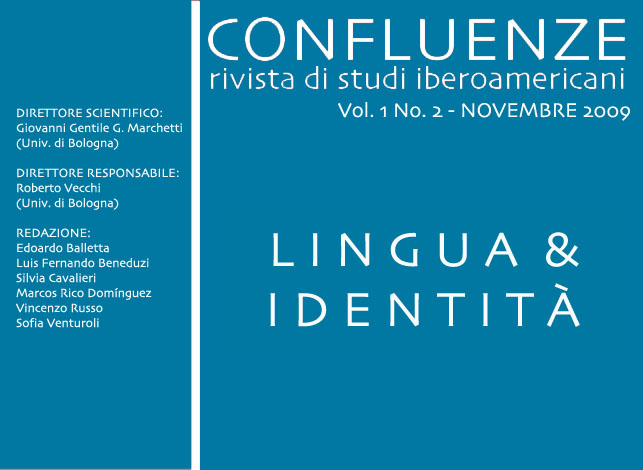 Downloads
Come citare
Rossi, E. (2009). Cantar la identidad: el emigrante/dekasegi en la música de los jóvenes latinos en Japón. Confluenze. Rivista Di Studi Iberoamericani, 1(2), 122-143. https://doi.org/10.6092/issn.2036-0967/1654
Licenza
Copyright (c) 2009 Erika Rossi
I diritti d'autore di tutti i testi nella rivista appartengono ai rispettivi autori senza restrizioni.
La rivista è rilasciata sotto una licenza Creative Commons Attribuzione 3.0 Unported License (licenza completa).
Vedere anche la nostra Open Access Policy.