Exilio y escritura en Gustavo Pérez Firmat
Abstract
Although Gustavo Pérez Firmat left Cuba in 1960, at the early age of eleven years old, made almost all of his studies in English, and was integrated into the culture and professional life of the US, the Cuban-american writer still considers himself an exile. This article examines how this identification is produced, in which way Pérez Firmat's essays explore and eventually articulates an identity signed by exile. We see how, for him, the real space of the nation is, first of all, the space of the concrete experience of bodies, language, and memory. A pesar de haber salido de Cuba a la temprana edad de once años, en 1960, de haber hecho casi todos sus estudios en inglés y de haberse integrado a la cultura y la vida profesional de los Estados Unidos, el escritor cubano- americano Gustavo Pérez Firmat sigue considerándose un exiliado. Aquí proponemos analizar cómo se constituye esta identificación, de qué modo en sus ensayos Pérez Firmat explora y finalmente construye una identidad marcada por el exilio. Vemos cómo, para él, el espacio real de la nación es ante todo el de la experiencia concreta de los cuerpos, el lenguaje y la memoria.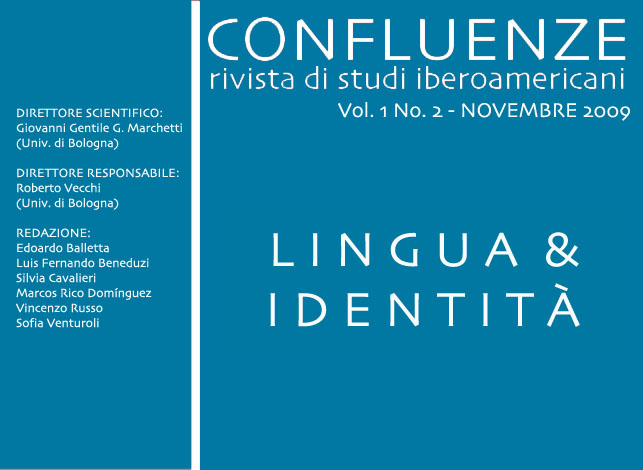 Downloads
Come citare
Silva, M. G. (2009). Exilio y escritura en Gustavo Pérez Firmat. Confluenze. Rivista Di Studi Iberoamericani, 1(2), 32-41. https://doi.org/10.6092/issn.2036-0967/1648
Licenza
Copyright (c) 2009 María Guadalupe Silva
I diritti d'autore di tutti i testi nella rivista appartengono ai rispettivi autori senza restrizioni.
La rivista è rilasciata sotto una licenza Creative Commons Attribuzione 3.0 Unported License (licenza completa).
Vedere anche la nostra Open Access Policy.